Article by Bjorn Moreira / ZA Bikers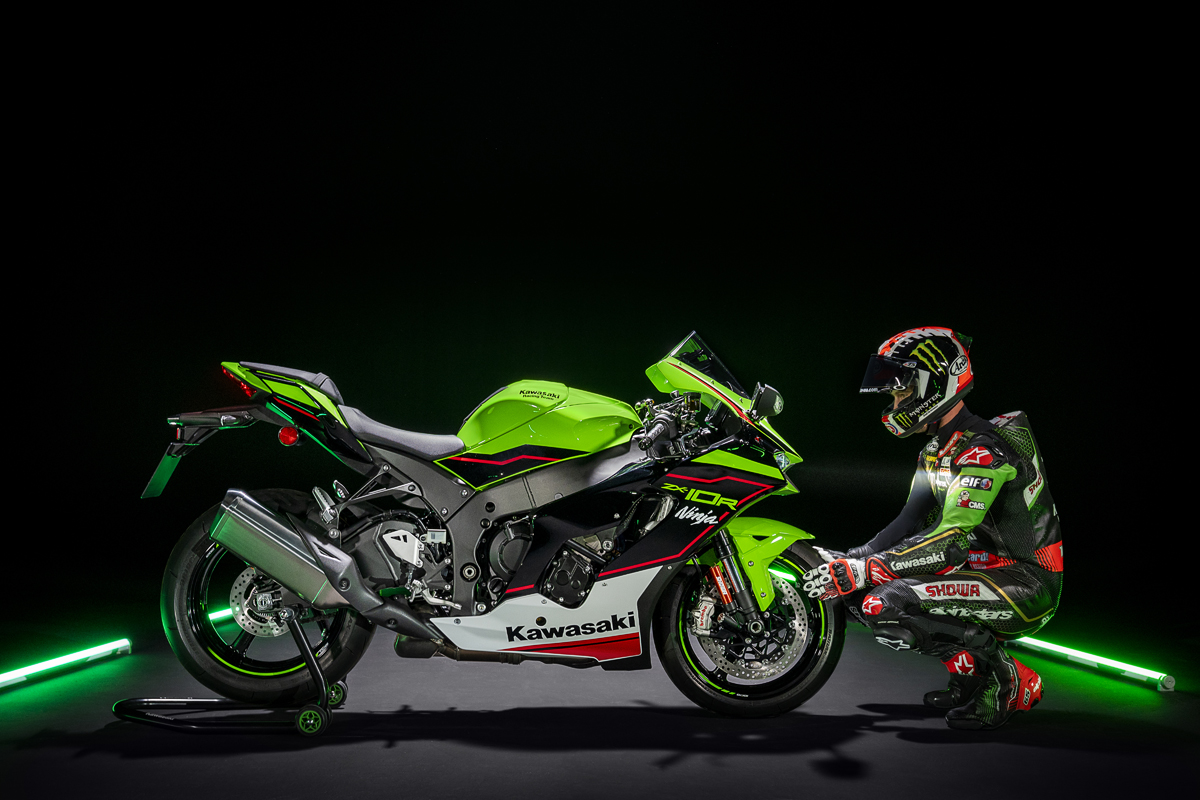 When the first Kawasaki Ninja ZX-10R was released in 2004, it was the highest performance motorcycle ever available to the general public. In terms of performance, the ZX-10R did everything well and set new standards in its segment. With a short wheelbase, a high power-to-weight ratio and a compact chassis, it was clear who Kawasaki were targeting.
Almost two decades on, Kawasaki is still riding on the same formula—a formula that's been proven to be near unstoppable. Unless you've been sleeping under a rock, you would have noticed Kawasaki's clear domination of the World Superbike championship. Tom Sykes kicked it off with countless superpoles and a championship title in 2013, followed by Jonathan Rea, now winning his sixth championship title in a row.
So what is Kawasaki's formula? For the ZX-10 project, Kawasaki have focused purely on race development and rider feedback—especially on the new ZX-10R and ZX-10RR. For 2021 Kawasaki concentrate on performance, engineering upgrades, and on building a machine that will excel on the track and road. With development help from Jonathan Rea, Kawasaki's engineers have prioritised an innovative aerodynamic package for 2021, combined with handling and ergonomic upgrades that are supported by new engineering technology.
The styling of the ZX-10 is the change that immediately jumps out and grabs your full attention. The new H2-Esque aero package sees the R and RR inherit integrated winglets on the front fairing—not only giving the new Kawas a meaner look but, creating 17% more downforce too. Unlike the H2, the ZX-10Rs keep their double LED headlamps, making way for a ram air intake down the centre. The R and RR also bear the familiar River Mark motif on the front fairing—a detail only ever seen on supercharged models.
The new aero package improves wind resistance for the rider with a 40 mm higher screen, 5 mm higher foot pegs, and a new handlebar position that replicates that of Jonathan Rea's race bike. At the rear, Kawasaki have gone as far as to cleverly redesign the rear seat to create an area of low pressure behind the rider, improving the bike's rear wind resistance.
Under the skin is a familiar 998 cc inline four, with finger-follower valve actuation and Euro5 compliance. Despite the Euro 5 certification, Kawasaki manage to maintain the engine's performance and easy-to-use character. By lowering the first three gear ratios, Kawasaki have made sure the R and RR will be making the best out of the 200+ hp that's on tap.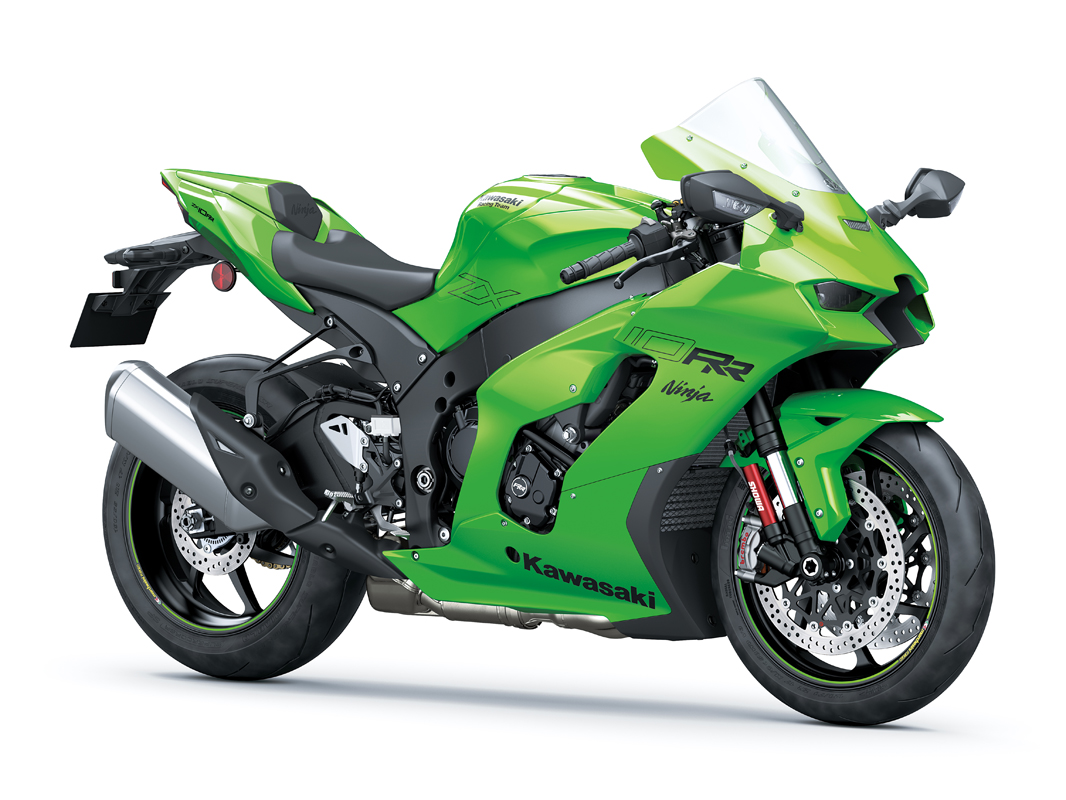 The ZX-10RR is a homologation special and a limited edition (just 500 units), on which reigning WSBK champ Jonathan Rea will attempt to win his seventh crown next year. It has a single seat, lightweight Pankl pistons, titanium connecting rods, high-performance camshafts and lightweight Marchesini Forged wheels.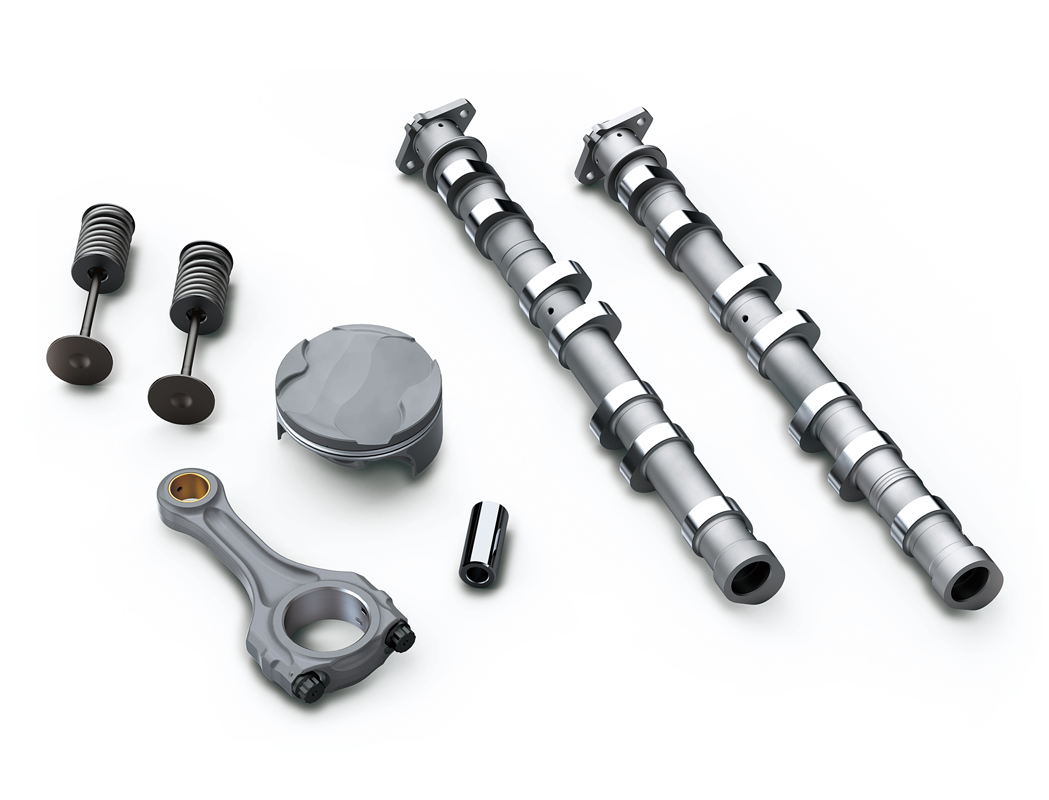 The RR's rev limit also increases from 14 300 rpm to 14 700 rpm, enabling an even wider power band and a further improved engine response.
Although race-inspired, the ZX-10 gets Kawasaki's new 4.3" TFT display with all the latest creature comforts, such as Bluetooth connectivity, electronic cruise control and optional heated grips. All the existing electronic rider aids remain for 2021, but do get the latest updates to suit the new R and RR's riding characteristics.
The well-known twin-spar chassis remains unchanged from the outgoing model, but the swingarm pivot is now 1 mm lower to improve suspension action. A 2 mm greater fork offset reduces trail to sharpen steering, while an 8 mm longer swingarm contributes to a 10 mm longer wheelbase overall (now 1450 mm)—improving overall stability. Kawasaki have changed the spring rates and settings on the suspension, seeing a softer front and harder rear for 2021 (we're guessing this is due to the increased downforce on the front of the bike).
Upfront you've got nothing other than Showa's fully adjustable advanced BFF (Balance Free Front Fork)—a true state-of-the-art WSBK race-inspired front end, and a surprising addition on a mass-production motorcycle. Showa's new fully adjustable BFRC lite shock does the duty at the rear.
Both the R and RR are fitted with Brembo M50 callipers, although the RR gets race-quality steel braided lines. The R comes equipped with standard road-going lines and one of the lightest wheel designs on the market: Kawasaki's three-spoke gravity-cast wheels.
The 2021 ZX-10R is available in Lime Green/Ebony/Pearl Blizzard White and Flat Ebony, while the ZX-10RR is available in a shocking Lime Green–which you're either going to love or hate.
Rather than create an all-new ZX-10R platform, Kawasaki have stuck to their roots and simply made a near-perfect package even better. Superbikes are all about bringing a little race performance to the street, and Kawasaki's legacy in that department is hard to beat. After all, you'd be nuts to bet against Jonathan Rea in 2021, right?